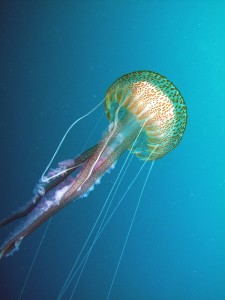 L'incontro nel vulcano
In una piccola isola esiste un vulcano che non erutta più.
Dentro al vulcano vivono tante meduse non urticanti, quindi un subacqueo può andare a esplorare il vulcano con tante meduse gelatinose, ma che non pizzicano.
Una di queste si chiama Wendi. Un giorno arrivò una medusa di nome Alice.
Molto presto Wendi e Alice si conobbero e divennero amiche allora Alice si unì al branco e vissero felici e contente.
(testo e punteggiatura di Camilla 8 anni)
ENGLISH VERSION
In a small island there is a volcano that erupts more.
Inside the volcano live many non stinging jellyfish, so a diver can go explore the volcano with many jellyfish jelly, but that does not pinch.
One of these is called Wendi. One day there came a jellyfish named Alice.
Very soon Wendi and Alice met and became friends then Alice joined the herd and lived happy and content.